If you've always enjoyed bringing the scenery indoors but wondered why the weather had to come inside with it, take a closer look at what the Imperial rigid vinyl Patio Door has to offer.
Features
Jamb section reinforced with steel for maximum frame strength
Door panels are reinforced with specially designed aluminum extrusions – which makes for unparalleled strength, durability and trouble-free performance
Triple-seal design that doubles the interlocking surfaces and weatherstripping between outdoors and inside, which assures one of the most weather-tight seals you can find anywhere
And that's only the beginning. The design engineers were hard at work re-thinking the whole concept of patio doors and came up with one of the strongest, best engineered, best insulated sliding glass doors on the market.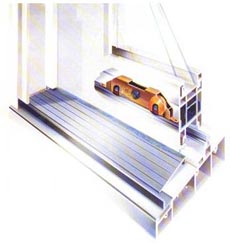 A latching device that pulls the frame and panel closer together, making a more secure, weathertight product
A raised aluminum track prevents the door panel from racking and twisting off its track, as well as keep it free of obstructions
Two sets of double-wheeled, stainless steel, pivoting roller wheels provide years of smooth, trouble-free operation
Weatherseals on each side of the panel extrusion keep dust and debris out from around the bottom, sides and top of the door
Additional Features
7/8″ Tempered Insulated Glass
Extruded Aluminum rolling screen with 2 spring loaded, ball-bearing rollers for ease of operation
Anti-take out blocks keep the fixed panel in place
Glass and Screen Options
Low-E, Argon and Super Spacer for maximum thermal efficiency
Colonial, Prairie or Diamond Grids available between the panes of glass for ease of cleaning
Etched Shadow Bevel Glass in a colonial pattern is also available for doors with 3′ panels
Color Options
White or beige vinyl in and out
Bronze or Cocoa exterior with a White interior
White exterior with a Natural Oak, Barrister Oak, Colonial Cherry or London Walnut woodgrain interior
Beige exterior with a Barrister Oak woodgrain interior
Custom Paint matching is also available
Hardware Options
Standard White hardware
Optional Brass or Nickel finishes
Keylock and kicklocks are also available
Configurations and Sizes
Available in 2, 3 or 4 panel configurations
Standard sizes are 5′, 6′, 8′, 9′, and 12′ widths, all 6'8″ high
Custom sizes are also available