Each and every Custom Built product is built to withstand the toughest Mother Nature has to offer us here in New England, but when you buy a Custom Built product you're getting so much more than what goes on your home; you're getting 60 years of knowledge and expertise, and the dedication from those whose mission it is to make sure your products are built right and your project goes smoothly.
We are Custom Built Window Manufacturing now, but we weren't born that way.

The Early Years
John "Jack" Gardner, Jr grew up on the difficult streets of South Providence, so he knew what it took to survive when he decided to take the risk and purchase a failing company, Custom Built Aluminum Mfg Co, back in 1961. From there he took a tiny shop making storm windows and grew it to a solid, well-reputed manufacturer.

70's and 80's
During the late 70's is when Jack's three sons, John, Greg and Scott all joined the company, and in 1985 the company's name was changed to Custom Built Window and Door Systems in order to better reflect our available products.
The New Millennium
By 2015 it was time to hit refresh on the Custom Built brand. Our 3rd generation of Gardners, Johnny and David, had been with the company a few years now and the time was right to inject some fresh perspective into our public presentation. Custom Built Window Manufacturing, as we are now officially known, is an evolution in our identity that pays homage to our roots and highlights what we want to be known for.
Since we began many in this industry have come and gone, but we're still here 6 decades later, and that's no accident. We believe one of the keys to our longevity is our team.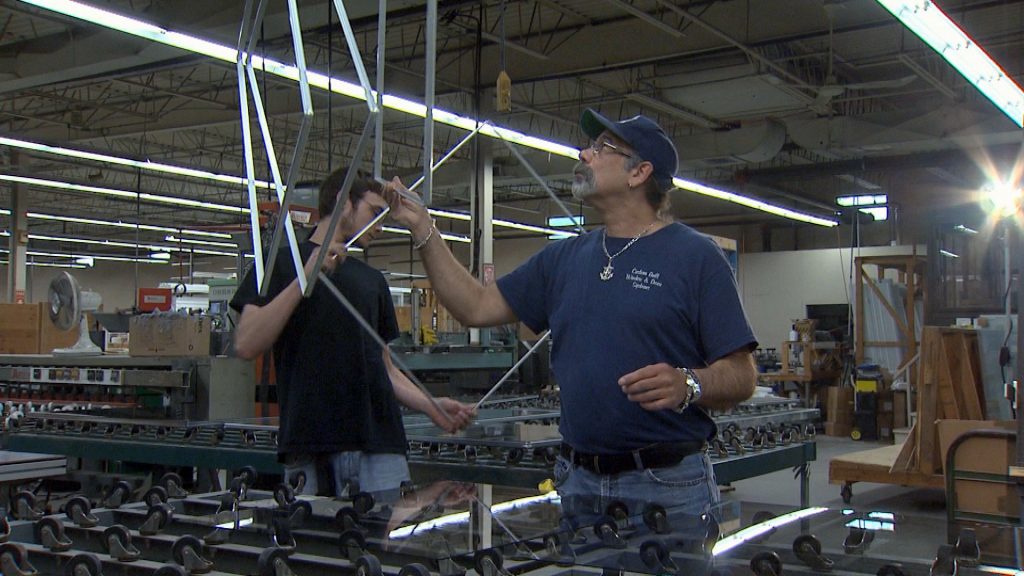 The average Custom Built employee is anything but average, racking up an incredible 13 years of employment at the company! That level of tenure provides stability and consistency of experience, so when you talk to someone on our staff you know you're getting the right information and the right product, built by people who know exactly what they're doing, and that's incredibly important.
Our Core Values
So you know when you work with us you're working with someone who has serious product knowledge, but it's also important to know what kind of people we are and what values are important to us.
Honest – Honesty is at the heart of a successful business, and we've built our company on a commitment to transparent, ethical business practices.
Wisdom – Our skilled crew has served New England for decades, and we must use our knowledge to make the best decisions possible for our customers and the company.
Trust – As your local manufacturer, you need to be able to rely on us—we strive to exceed your expectations while building trust through each stage of your project.
We Practice What We Preach
Talk is cheap, as they say, so how do you know we live up to those values? Just read (a few of) the things our customers have to say.
I asked Custom Built to design a frame for a large half-round stained glass window that I wanted over my front door. The finished product has far exceeded my expectations. The stained glass is sandwiched between clear glass panes. It has never rattled from vibrations. Over the course of this winter there has been no air infiltration and there is no condensation within the internal window cavity or inside the house. I congratulate Scott and his crew for a superior product. Anyone needing a custom window would be well advised to contact Custom Built first.

Jay E.
We want to thank you for our experience with Custom Built. From the first time we walked into your showroom until the finished project was installed in our home we could not have been happier. Your patience while we changed our minds (about 100 times) was appreciated.

Frank B.
We want to say thank you for the excellent service and products! We love our front doors and appreciate the personal and professional service from start to finish!! What a great local company.

Reggie and Donna L.
I'm happy to report that my new windows are in and they are everything my husband and I were hoping for. The wood-tone interior blends nicely with the frame of the window and looks authentic to the original construction while my home's "sidewalk" appeal has been enhanced by the outside white colonial grids. Aesthetically, these issues were important to me and I couldn't be more pleased. Since we had previously done business with your company, I was not surprised by the quality of your product but have rather come to expect it. This observation was affirmed by my contractor prior to and after the project was completed. Bill and I look forward to a draft-free, money saving winter season.

In closing let me thank you for your attention and suggestions regarding my purchase. It's a pleasure to do business with a fine, local company such as yours.

Bill and Lynn S
I just wanted to write and let you know I appreciate the service you have provided for outside doors installed at my home in Wickford. You were there within 2 days and took care of the problem.

The doors were not closing properly and you had a service technician down to correct the problem at no cost to me.

It is that type of responsiveness, follow up and product back up that is so often missing, it seems, in today's world.

A bit of "old-fashioned" we-will-take-care-of-it-for-you. Nice.

Richard L.
Thank you very much for doing such a fantastic job on my new windows. They look beautiful! The high quality of the work that went into the craftsmanship of making them was very noticeable.

Chris, thank you very much for answering all of my many questions. I was very worried about changing the look of my house, and you reassured me about everything. Now that the windows are in, I am very pleased with how they look. They brighten up the house, and more importantly they control the temperature of the house perfectly. I used to have to keep my central air on 63 just to keep the upstairs of my house at 70. Now I keep it at 68, and the upstairs is just as cool as the downstairs. The house is air tight now. It should really make a difference with my heating bill in the winter because now the heat isn't literally going out the windows.

Thank you again for doing such a great job.

Paula B.
The design, manufacture and installation are absolutely first rate — I can't imagine how they could be improved upon. Our phone and in-person communication was professional and right on target.

What else can I say? Doing business with your company was a treat and the products are the best I've seen.

David T.
My company recently began doing business with Custom Built. I was referred to you by a subcontractor that was working for me. My experience with windows and doors in general was quite limited. As a result there were some miscommunications between my company and yours, primarily due to my lack of knowledge.

My direct contact at your company is Jim from the Shipping Dept. Not only has Jim been a pleasure to work with, he has educated me about your business and products. He resolved the aforementioned miscommunications in an efficient manner. I now hold your company in the highest regard and look forward to referring your company to other contractors.

I wanted to take this opportunity to recognize Jim for his outstanding customer service. His professionalism compliments his affable attitude. Jim has helped elevate my expectations of your company to the highest of plateaus and I look forward to a long and prosperous relationship.

Michael B.
What's Next?
Now it's your turn! If you're going to do something only once or twice in your life it seems silly to waste time, money and energy doing it with the wrong people. When you're ready to replace your windows or do something about that back patio, give us a call! Or maybe instead of working with us as a customer you want to work with us as a member of our team? Awesome! Let us know!